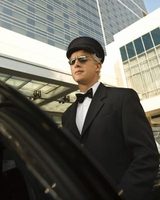 Customer satisfaction is our concern. With our primary objective to be brought for our customers, we are dedicated to giving the best service with our full potential. Our dedicated staff holds an essential role in maintaining the high-quality service that we offer.
From the front desk staff who welcomely help you with inquiries and questions, to our professional mechanics who maintain the fleet's condition, to our workaholic staff who clean the caravan and preserve its appearance, to our experienced chauffeurs who assure your ride is safe, fun, and comfortable.
Bravo Limo Driver Requirements
Our drivers are the chosen ones through careful recruitment. All drivers have a good driving record from Motor Vehicle Commission documentation. That means each driver has been trained with our company's high standards, strict policies, and high expectations. Department of Transportation sets the standards for professional drivers, and our drivers have met them. Drug and alcohol screening is also conducted routinely for our customer's safety.
Bravo Limo happens to be here to cope with your hectic schedule, especially during rush hour. We have the best crew to get you from point A to point B in an adequate time. Our chauffeurs come with the skills needed to reach your destination. We will not only get you to your destination on time but also make your ride as comfortable and fun as possible. Our staff has higher standards to meet. We transport and serve our clients all day, on weekdays or weekends.
Our servers, like the chauffeurs, are professionally trained and ready to serve you at the party. Servers can rely on different tasks like welcoming guests, serving food and beverages, operating a sound system, mini bar, and many others.
Here are the traits of our staff:
Our chauffeurs are excellent drivers who have critical side skills.
Our chauffeurs will always attend to the pick-up point in time and get you to your destination on time.
Our staff should be clean-cut and well-groomed.
Our team has manners and willingly meets your needs whenever needed.
One distinct factor of our staff is that an excellent driver skills in driving. All our drivers have perfect defensive driving techniques. They will obey all traffic laws and ensure the safety of the passengers. In the sense of our sophisticated service, they can drive efficiently. For instance, a good driver can handle the traffic jam by diverting to an alternative road to ensure to reach the destination on time. Our driver will arrive at the meeting point earlier, and you will not have to wait to get on our stylish ride.
Top-notch customer service is our guidance. We want you to have beautiful, unforgettable memories with our company on your side and from the first encounter with our staff. When sophisticated services are required, Bravo Limo is the best choice.