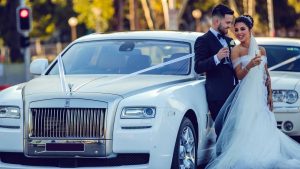 We know that a relationship of friendship and love, no matter how charming, romantic ideal, with demand in marriage, and long-awaited "Yes" gets filled with responsibility. Many fall in love and have a wonderful time before the wedding, but few are genuinely prepared during the preparations for the wedding. We, who can advise you, will find many opportunities to facilitate marriage in style. Bravo Limo handles the transportation for your wedding to have some of the finest moments of the most important day.
What better time there to rent a limousine? Correct answer: WEDDING! A wedding day is one of the most important days of life for both the bride and groom.
And to this day, an extraordinary wedding should be everything perfectly organized, the couple dressed up in the bride's limo, and guests.
What can make a ceremony filled with memorable moments, and what could be more special than a luxury limousine wedding?
Choosing a luxury car offers sumptuousness to the big event, and you can have a dream walks between moments of the ceremony: the arrival of the bride's house, religious ceremony, party at the restaurant, stealing the bride, groom return, even leaving in honeymoon!
In our fleet, you can find the most luxurious limousines, all colors, from white for traditional weddings to red, yellow, black, and even pink for nonconformist marriages. You can choose from a wide range of car that fits your wedding style. Also have a variety of brands, starting with Lincoln Towncar, Range Rover, Dodge Durango, Hummer H2, Hummer Transformer, Cadillac Escalade, Chrysler 300, Ford Excursion, and more. We have different sizes of limousines, one to fit up to 25 passengers, and lavish weddings with many guests. But for small weddings, we can offer a limo starting at six passengers. It's your wedding, your style, your choice.
The best day of your life deserves all our attention; therefore, we provide you with the best-trained staff, quality limousines, and the most professional drivers. Call now, make your reservation and stay calm on your wedding transport because of this deal Bravo Limo.