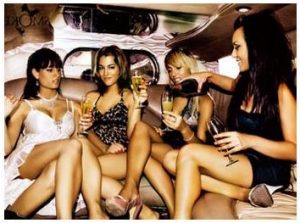 Want something new? Are you bored of an ordinary night spent at home in front of the TV? Do you want to impress your friends and feel good even on a typical day? Or, some friends came to visit you, and do not know how to entertain them? You can rent a limo and travel with friends on the streets to serve champagne in the limo with a VIP bar, dance floor, and lights that will make you believe you're in the VIP club. You can invite your friends to a night out full of pomp, style, and elegance without costing you too much. Rent a limousine at an affordable price year and rambling with friends on New York or New Jersey streets, comfortable in the "VIP disco on four wheels."
To get a night out on the streets in an elegant and luxurious limo is a dream of all. Invite friends to the most stylish, fun, and unforgettable party. You can feel like you are in a fancy club because our limousines have lighting systems of various colors, art sound systems, ceiling mirrors and lights, a dance floor, and many more. So have fun and spend an evening that promises to forget the word boredom.
Bravo Limo guarantees you 100% safety, service to the highest standards, professionally trained driver, and of course, comfort and elegance of the limousines.
Bravo Limo is for those who want to escape from the mundane parties at home and bored guests. You can even organize a party on wheels, reserving a limousine with a dance floor, bar, and music systems of the highest quality. Have fun with your guests to the maximum. And make any celebration unforgettable.
Call now to Bravo Limo and enjoy a night of adventure. And we will celebrate with you.